If you watched Feasting On Asphalt: The River Run, you probably remember the Koolickle. If you don't...imagine a bright pink pickle. Yeah.
To my delight, when I checked out Feasting On Asphalt: The River Run: The Book (I don't think that's the whole title, but it made me laugh to type it), they included the recipe for Koolickles, and you KNOW I had to try it out.
Alton and his crew stopped at Joe's White Front Cafe in Rosedale, Mississippi, and encountered the Koolickle for the first time. It looked scary, but according to ol' AB, is suprisingly delicious.
Now I know, your probably going "Koolickle?! What is that?!". It's what it sounds like it probably is - a pickle. Soaked in Koolaid.
The recipe:
1 gallon jar kosher dill pickles
2 packages unsweetened cherry Kool-Aid
1 pound sugar
Drain the liquid into a large container. Add the Kool-Aid mix and the sugar to the liquid and stir until sugar is completely dissolved. Remove the pickles from the jar, slice them in half lengthwise, and return them to the jar. Return the liquid to the jar of pickles. Not all the liquid will fit, but make sure the pickles are completely covered. Place in the refrigerator and let sit for one week.
Now, I wasn't willing to commit to a full gallon of pickles, because I was probably going to be the only person in my house willing to give this a shot, so I bought just a regular size container of pickles.
The evidence: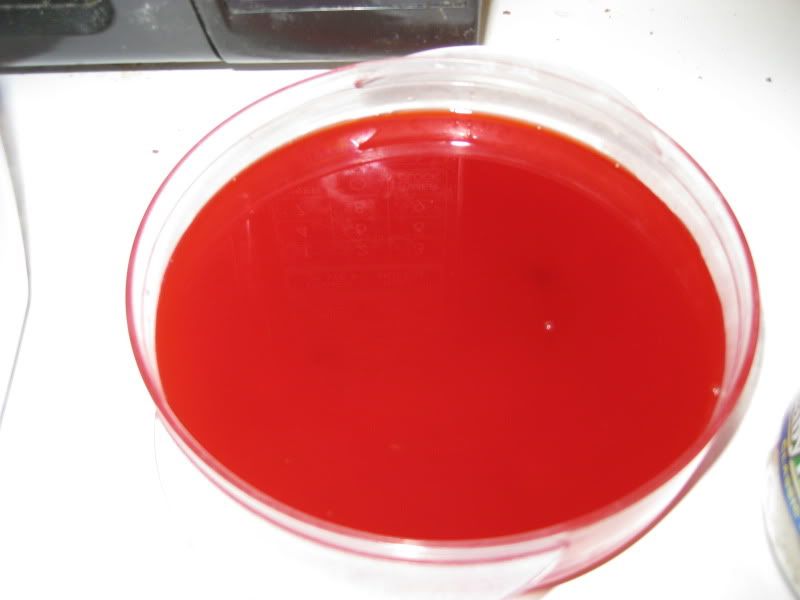 The juice. I used a half a cup of sugar, and one packet of Kool-Aid. I'm not much with the math, so I'm not sure if I cut it down right. We'll have to see, I suppose. No one has ever died from a pickle, so I assume I'm safe. ;)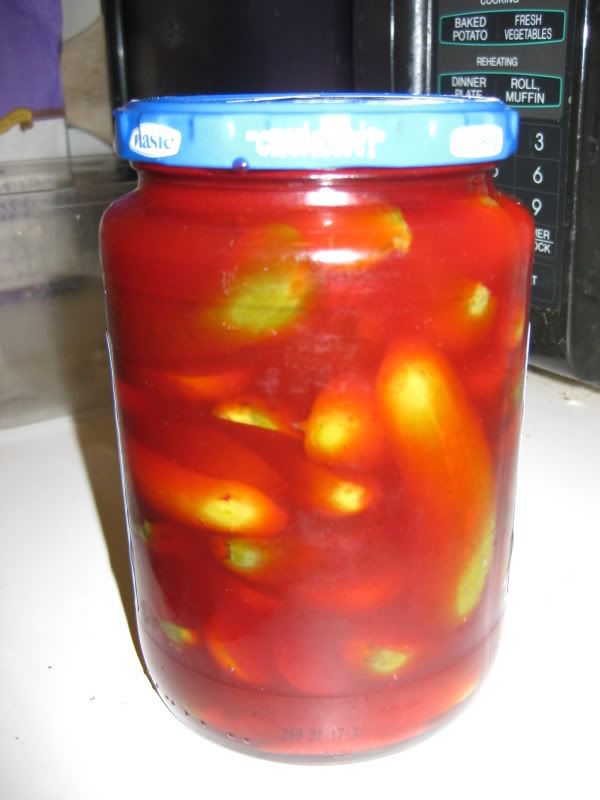 The pickles, rejuiced. I'm not sure I'm going to be able to wait a week. Maybe we'll just go in 24 hour incriments.
And there's another restaurant pictured in the book with a sign advertising that they have "Southern Style Sweet Pickles" in Cherry, Strawberry and Grape. So the Koolickle experiment will continue, I trust. There's lots of Kool-Aid flavors!